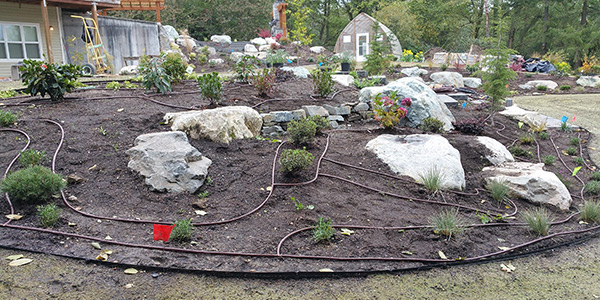 At E S Irrigation LLC, we are committed to keeping your garden looking its best. We know that you invest time, money and effort into your garden's maintenance, and we are available to help ensure that your plants get the water they need. Our certified experts offer a range of discreet, professional irrigation services that can assist your garden as it comes into full bloom.
E S Irrigation LLC specializes in the installment of the following types of garden watering systems and more:
Drip systems: Drip systems water your garden's plants through the installation of a long pipe or hose with multiple holes throughout its surface. Depending on the variety of plants in your garden, we can install aboveground or underground drip systems. Drip systems give your garden water where it needs it the most, and can be customized to spray on top of your plant or drip at its roots. While this type of garden watering system in Yelm, WA is not intended for lawns, it is ideal for vegetable gardens and flower beds.
Trenching: E S Irrigation LLC has all of the equipment and experience necessary to enhance your garden through trenching. By using advanced tools, we are able to dig carefully measured trenches that allow for the transport of water to your plants. We also provide you with the perfect trench depth to prevent unintentional damage to your garden irrigation system in Yelm, WA.
When you work with our business, we take the time to understand the exact type of watering system that your plants need. Through a thorough knowledge of your garden, we design accessible and effective irrigation systems that deliver high-quality results time and time again.
You can depend on our business to help your garden flourish through customized irrigation solutions. For more information on drip systems and trenching services offered by E S Irrigation LLC please contact us by calling 360-894-4204.